追风筝的人英文读后感
  当阅读了一本名著后,相信大家都积累了属于自己的读书感悟,记录下来很重要哦,一起来写一篇读后感吧。那么我们如何去写读后感呢?以下是小编为大家收集的追风筝的.人英文读后感,希望对大家有所帮助。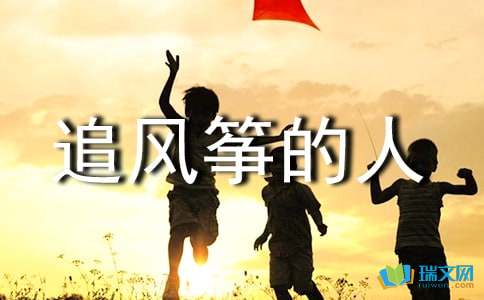 追风筝的人英文读后感1
  I like this book very much, because it is so delicate and so touching. Even in the face of too strong dark forces, good people never give up hope! This is the one from Afghanistan American writer in the novel, it can be seen as a result of the terrorists and the war and in deep water in the country people, they still retain the ability to illuminate the sky and star light in a dark sky.
  At first, the novel was seen in a magazine called "for you, thousands and thousands of times". I wanted to read the book at that time. Then, when I had the opportunity to read myself, I had so much hope in my heart.
  This is a story about redemption, and it is a cruel story. From the initial Hahn commitment, to the last hero complete self salvation, I saw a human rebirth. "The kite runner" background story is true, because true, why so touching. In the novel, between Hahn loyalty, friendship and mills master let me feel the warmth of human nature, and a variety of Afghanistan and the cruel reality, let me have a deep sympathy for the world of misery. The unfortunate experience of Huns children was the impulse of my tears.
  The kite runner, as we in the pursuit of the good hope, we sometimes to his most important person regardless of the way of thorns, courage; sometimes we to cleanse your soul, will focus on the beauty of "Kite", to find the direction of happiness in pain.
  追风筝的人英文读后感2
  Its a moving story and a mixture of love,fear,guilty,atonement and so on.For a lont time,it makes the books we read lost their color.
  The first time I read a book written by an Afghan atuhor named Khaled Hosseini ,it told a story between two boys.A rich boy Amir at the age of 12 and his servant Hasan were brotherly loved.Nevertheless,afer a kite game,something miserable happened.Amir feel grievous and guilty for his cowardice and he cannot confront Hansan,using something contempitable to let Hansan and his father leave his home.Not long,Afghanistan broke ou a war,Amir and his father had to fled to America.After his grown- up,he cannot forgave what he had done to Hansan before.And to atone for himself,he returned his hometown,which was destoryed badly by the war……
  Maybe all of us more or less had done something as Amir did before,we are too young to understand others feelings when we broke their heart into pieces.We may feel guilty and miserable for waht we have done.But there is no use to cry over spilt milk.What we really should do is to face the reality and like Amir,to atone for ourselves.
  追风筝的人英文读后感3
  I hate wars which make the world bloody ,cold and cruel, so I do not want to talk about the war. But it is miraculous to see a kite is cut off by another one. And the kite which is cut off flies away like a free bird. Hassan said to Amir that for you, one thousand times over. At first, I tought the friendship between Hassan and Amir was so deep. But then I found that Hassan was a servant in Amir's home and began to realize it is some kind of loyalty. Though Hassan always said that Amir treated him as a friend, deep in his mind, he did not put them on the same line. In his eyes, Amir is the person he should look up to and protect, even do whatever he can do to help. Amir was affluence in material, but he did not have friends because of his race. I dislike him because he always ran away when Hassan was hurted by the others in order to protect him. In my opinion, if he stand up fo Hassan, things would have been different. I could not understand why Amir cheated to make Hassan leave at first, though their "friendship" is complicated. Now I come to know that Amir may try to push Hassan out of the position as a servant. And he wished that they stand in the same line and Hassan can chase for the things wanted by himself. Though Amir's father said that a boy who won't stand up for himself, becomes a man who won't stand for anything, Amir finally turned into a brave man who standed up for Sohrab, the son of Hassan.
  The kite tied Hassan and Amir tighter tighly. When I saw Hassan running after the kite, I realized that he was chasing for freedom as well. However when I saw Hassan running after the kite, I thought he was learning to protect things he cherished. There are many kites we are willing to have, but do you have the courage to chase for them?
【追风筝的人英文读后感】相关文章:
7.追梦的人