关于母爱的英语作文
  我的妈妈(My mother)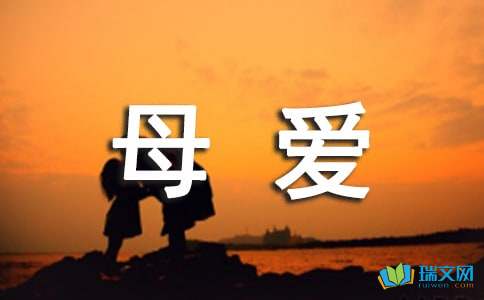 There is a person who is very important in our life, who is that person? She is our mother.
  The other day, our school invited a famous man, a young speaker called Yang Qingsong, who gave us a speech on Mother's love. I still remember the scene where many students were impressed by his words and a number of students were listening carefully with tears down their faces. I was also strict by his wonderful speech, which reminded me of my childhood. As a child, when I felt down, it seemed that the world was dark and empty. Then it was my mother who cheered me up and made the world suddenly bright and colorful; when I lost my way, my mother held my hand and told me that everything was going to be Ok. Because of her, I am always feeling happy and confident!
  I owe my thanks for my mother, Not only does she give me the greatest love in the world, but she also leads me down the road to success!
  母爱(My mother's love)
  Mamma you gave life to me,Turned a babysintosa man,And mamma all you had to offer Was a promise of a lifetime of love,Now I know there is no other love like a Mothers.Love for her child,I know that love so complete someday must leave.Must say goodbye,Goodbyes the saddest word,I'll ever hear.Goodbyes the last time I will hold you near,Someday you'll say that word and I will cry,It'll break my heart to hear you say Goodbye.
  Mamma you gave love to me,And Mamma all I ever needed Was guarantee of you loving me,Cause I know there is no other love like a mother,the love you give will always live,You'll always be there every time I fall,You take my weakness and you make me strong,And I will always love you till forever comes.And when you need me,I'll be there for you always,I'll be there thru the lonely days.You are the wings that guide my
  broken flight,and my shelter thru the raging storm,And I will love you till forever comes.
  母爱(Mothers Love)
  I got up late this morning and went to school without feeding my cats.When I came home in the afternoon, the cats almost starved to death. They circled around me and crying for food. I took one fish out and threw it to the cats. I wanted to see who was the first one to catch the fish. Mother cat held it in her mouth and nm away quickly. She didn't eat it, but put it down, then called her children there. The four starving little cats began to devour the fish, but their mother just stayed there looking at them tenderly,without eating a little bit. On seeing that, I thought of my mother. She often does everything for me selflessly. This is a mother's love, I think.
  [译文]
  我早上起床晚了,所以没来得及喂猫就上学去了。当我下午放学回家时,猫都快要饿死了。它们围着我"喵喵"地叫着要饭吃。我拿出一条鱼扔过去。我想看看谁先抢到鱼。只见猫妈妈一口叼住鱼,迅速跑开了。它没有吃,而是放下鱼,回头召唤它的.孩子们。四个小家伙狼吞虎咽地吃着鱼,而它们的妈妈就在一旁温柔地看着,一口也没吃。我想起了我的妈妈。她也是这样无私地对我的。我想这就是母爱了。
【关于母爱的英语作文】相关文章:
3.关于母爱的作文
4.关于母爱的作文
5.写母爱的英语作文