实用的我的假期英语作文7篇
  无论是在学校还是在社会中,大家一定都接触过作文吧,作文根据体裁的不同可以分为记叙文、说明文、应用文、议论文。写起作文来就毫无头绪?下面是小编为大家整理的我的假期英语作文7篇,欢迎阅读与收藏。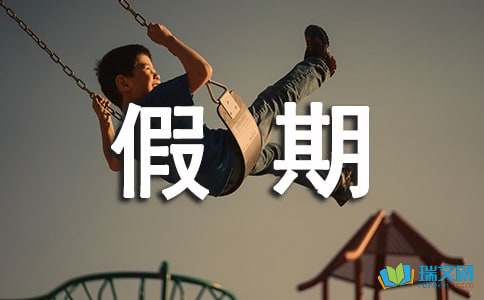 我的假期英语作文 篇1
  On the May first .I had done some interesting things for the family .First ,I helped my mother clean the house ,it was very difficult ,do you know ,mothers must be very tired ,you can see ,I just do housework for a short time ,and I felt very tired ,and mothers have to do housework everyday ,So ,we should thanks for mother .
我的假期英语作文 篇2
  National Day holiday, the students have to stay at home with Mom and Dad together, the cruise sites, the great cultural experience. Shop at the door with balloons and colorful flags, red, yellow and green : : permeated with an atmosphere of jubilation. Everybody inside, in the original discount, launched a series of promotional activities. Street sea, but also rank long car buying service, the fight must wait long periods. Scenic visitors like long, countless men, women and children in which to do that people have been taking advantage of the festive play out. Almost no empty parking places, restaurants, hotels, the revenue will be substantial.
我的假期英语作文 篇3
  Spring Festival is coming,I am very happy。On this winter holiday,I went to visit my grandparents with my parents。 My grandmother is very zeal。Our dinner is very delicious。After the dinner,the people gave me money in red envelopes。I am very happy in this family with my grandparents。
  Sometimes,we go to climb the mountains。The mountain is very high。Look!There is a clean river near the mountain。And there are some beautiful flowers,grass and big trees。Some trees are orange trees,the others are banana trees。Oh,I am very tired but interesting。
  I am very happy on this holiday because I like Spring Festival very much。What about you?
我的假期英语作文 篇4
  I like the winter holiday very much。
  Though it's very short,I can enjoy the Spring Festival。
  I can watch cartoon every day。
  I needn't go to school frepuently。
  Sometimes I can go to play with my friend outside。
  With the festival ing,I can play all the time。
  I can play video game with my brother。
  I am good at playing PC game。
  So I often beats my brother。
  Then more and more relative came to my home。
  We had dinner together。
  It's so lively that I'am very happy。
  But I still have to do my homework。
  During the holiday,I learned a lot。
  I love the winter holiday。
我的假期英语作文 篇5
  I had a great time throughout my May Day Holiday.
  On Monday, I went BBQ with my classmates who threw a celebration party at our middle school principle's flat. Our parents were invited to the party. Everybody was excited about the holiday. I ate a lot of delicious food at that time.
  On Tuesday, I went visiting my uncle's family with my parents. We went to celebrate our good time at a fancy restaurant in Shanghai. Later that day, we sang karaoke in my uncle's house. We stayed for the night.
  On Wednesday, I went shopping with my cousins. We bought some brand name t-shirts and pants. In the afternoon, my cousins gave me a fun ride on the city highway. They also taught me how to drive their fancy car, so I tried to do some turning and parking. It was not easy first. But I learnt quick.
  All in all, I enjoyed my May Day Holiday in many ways.
我的假期英语作文 篇6
  Summer holiday is coming . I want to go to Beijing . I go to Beijing with my father , my mother and my brother . We want to go there by plane because it takes less time . We can see many things in it . First we can visit the Great Wall , it is very famous for the world ,so I like it very much . Second we can go to the zoo because I like to see animals .
  There are many foreigners in this city ,too . I want to talk with them in English . I want to learn English from them . I think we can have a good time then . I hope it is coming soon.
我的`假期英语作文 篇7
  This year's summer vacation was most enjoyable. I spent fifteen days helping my grandparents doing farm work in the countryside, where I saw mountains fields covered with green plants. Sometimes I went swimming in the river to the west of the village, the water in which was quite clear.
  I kept a diary every day. Besides doing farm work, I help the children in the neighborhood with their lessons. All of them showed interest in English. They could read write wellthey could hardly understand simple English. So every day in the morning I spent about two hours helping them improve their listening spoken English. They all made great progress. Their parents all thought highly of me. I now realize that knowledge is very needed in the countryside.
  今年的暑假是最愉快的。 我花了十五天的时间帮助祖父母在农村做农活,在那里我看见绿色的植物覆盖着山地。 有时候我在河边的村子里游泳,水很清澈。
  我每天都写日记。 除了做农活,我还帮助附近的孩子们上课。 他们都表现出对英语的兴趣。 他们可以读得很好,他们很难理解简单的英语。 所以每天早上我花了两个小时帮助他们提高英语听力。 他们都取得了很大的进展。 他们的父母都很看重我。 我现在认识到农村非常需要知识。
【实用的我的假期英语作文7篇】相关文章: