母亲节英语作文范文(精选10篇)
  在日常学习、工作或生活中,大家都跟作文打过交道吧,借助作文可以宣泄心中的情感,调节自己的心情。那么你有了解过作文吗?以下是小编精心整理的母亲节英语作文范文(精选10篇),仅供参考,希望能够帮助到大家。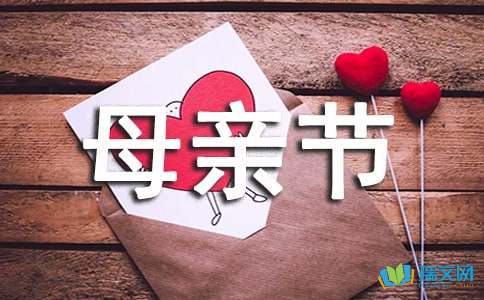 母亲节英语作文1
  A little boy invited his mother to attend his elementaryschool'sfirst teacher-parent conference. To the little boy sdismay, shesaid she would go. This would be the first time that hisclassmatesand teacher met his mother and he was embarrassed byherappearance. Although she was a beautiful woman, there was aseverescar that covered nearly the entire center side of her face.The boynever wanted to talk about why or how she got the scar.
  At the conference, the people were impressed by the kindnessandnatural beauty of his mother despite the scar, but the littleboywas still embarrassed and hid himself from everyone. Hedid,however, get within earshot of a conversation between hismotherand his teacher, and heard them speaking.
  How did you get the scar on your face? the teacher asked.
  The mother replied, When my son was a baby, he was in a roomthatcaught on fire . Everyone was too afraid to go in because thefirewas out of control, so I went in. As I was running toward hiscrib ,I saw a beam coming down and I placed myself over him tryingtoprotect him. I was knocked unconscious but fortunately, afiremancame in and saved both of us. She touched the burned sideof herface. This scar will be permanent 8, but to this day, Ihave neverregretted doing what I did.
  At this point, the little boy came out running towards hismotherwith tears in his eyes. He hugged her and felt anoverwhelmingsense of the sacrifice that his mother had made forhim. He heldher hand tightly for the rest of the day.
  母亲节英语作文2
  Mothers Day is a happy and unforgettable holiday. How I long for it to come!
  In order to make me grow up well, every weekend and summer vacation was running for my cram class, even today, I was still working for my study and life. As a result, the feet were all blister and even a thick cocoon.
  Today, mothers Day is coming. I decided to do something for my mother - I need to wash my feet for my mother, wash my mothers fatigue and wash away the dust from my mothers feet. First, I want to buy some carnations, and then cook a pot of water, until the water is boiled, smoke, and then pour it into the pot, then, put the petals in the pot, and let the water ripple the fragrance of carnations.
  All right, everything is ready now. I called my mother and let her put her feet into the rich and fragrant pot. I washed my feet with my own hands, and my hands would wash my mothers tiredness all day. No! It was so hard for years! I felt my mother growing the bottom of the cocoon. My heart was very uncomfortable. My mother loved my head. She was happy and said, "my son grows up, understands, mother is very relieved." And I told mom that I had to study hard and learn to do housework as well as help my mother share the burden of the family.
  Mothers day today, I and my mother have been very happy, mothers Day is built, it is the best festival in the world, it let the world mother have a day to accept blessing and return, even if only a word, even if only tiny things, but also let the mothers really warm!
  母亲节英语作文3
  What a beautiful day for mothers day. On this day, people in all countries of the world offer their mothers the most sincere blessing. This day is a holiday for all mothers on earth. On this day, we bless our great mother together.
  Its a fleeting moment, and its more than a dozen years of life. In those years, there are always one pair who are no longer young but always silently watching your eyes behind them.
  However, I sometimes do not understand my mother and leave her alone. In high school, I had to run three times every day in school and at home. The time for dinner every afternoon seems to be very tight. Several times I hurried home, but the meal was not done well. When I wait for job, I keep mumbling, never thinking about my mothers feelings. So selfish all the time, I never felt a trace of guilt.
  Until that Saturday, I saw my mothers hard work. After lunch, she was busy, her face was dripping with sweat, and she had almost no time to sit on the bench. In the afternoon, she was in a hurry to cook. Her anxious eyes showed concern and concern respectively. She was cooking for her daughter. For so many years, a fixed rope seemed to have kept her at home. For decades, she has been guarding this family and serving her loved ones.
  My heart is not shocked. How can I feel so sorry for my mother? That night, I could not sleep, and on the second day, I made cards myself. All my regrets were expressed, and my hands were sent to my mother. After mother finished reading, we embraced together for a long time.
  Thank God, we are not great, but we also have great mothers. Today, we have a blessing for our mother.
  However, it is not only mothers day that this genius wants to "care for the mother" in particular, but on the 365 day, it is mothers day every day.
  母亲节英语作文4
  My mother is very good at raising plants and flowers.We have plants and flowers indoors and outdoors all the year round.
  Some of our plants were very small in the beginning,but now they are large and very beautiful.On top of our roof there is a big glass—enclosed greenhouse.
  All our friends love to come to our house to see the beautiful world my mother has made for us. Every morning and evening we see my mother taking care of her plants like little children.
  As her real children grow older and more independent,my mother devotes more time to her garden.This is a very good way to spend one'free time.
  母亲节英语作文5
  Today is mothers day. When I go out in the morning, I dont have any pocket money. I cant afford to buy my mother a gift. I feel very ashamed. The English lesson is about eleven points, the weather is very hot and hot, when the bus goes home, there are few people on the bus, the number of people can count, most of them are old aunts. Do you know if anyone has given them mothers day? What is the old aunts mothers day like? The hot wind carried my leisurely thoughts to my home.
  When I got home, I sent a message to my mother, "Happy Mothers day, mom, I love you." The mother seemed to be in a good mood, and the word "1" on her forehead was thin. The kitchen was full of pink figures with her apron.
  In the evening, I promised to cook dinner for my mother as a compensation for mothers day. There are bitter gourd in the fridge. I fancy it. I want to make balsam cake by myself. Because of little knowledge of kitchen, I had to ask my mother repeatedly. After a long time, I was able to fry the bitter melon cake. My mother tasted the bitter melon cake I made, and thought it was delicious. She looked at me very appreciative and laughed very happily. I did not think of my first cooking, it was fried, it was really delicious, but some were too bad. I also comforted myself to make more efforts to make more delicious meals for my mother.
  Mothers Day is about to be finished in the busy dinner, but this mothers day this year, I will remember that bitter gourd pie to bring my mother a laugh, to give me experience and satisfaction.
  今天是母亲节,上午出门时没带零花钱,无法给母亲买礼物,十分惭愧。下了英语课约十一点,天气燥热无比,乘车回家时,公交车上人很少,可以数的清人数,大多是些老阿姨,不知道有没有人给她们过母亲节?老阿姨的母亲节又是什么样的呢?炎热的风载着我悠悠的思绪一直到家。
  回到家,我向母亲送上一句"母亲节快乐,妈妈我爱你。"母亲似乎心情也不错,额头上的"1"字淡了。厨房中满是她系着围裙的粉红色身影。
  晚上承诺给母亲做晚饭,作为母亲节的补偿。冰箱里有苦瓜,我想入非非,自编自导要做苦瓜饼。因对厨房方面的知识了解很少,只好三番五次地请教母亲,好长时间过去,我才将苦瓜饼煎好。母亲尝了我做的苦瓜饼,觉得挺好吃的,很欣赏的看看我,笑的开心极了。我没有想到,自己的第一次做饭,竟然采用的是煎,味道真的不错,只是有的太糊了,我也暗暗安慰自己要再接再厉,给母亲做出更多可口的饭菜。
  在忙碌的晚饭中即将结束母亲节,但今年的'这个母亲节,我会记住的,那个苦瓜饼带给母亲欢笑、带给我体验与满足。
  母亲节英语作文6
  The mother line, wandering clothing leaving thick seam, Italy to the fear of delay who grass-inch heart, reported in the apartments?" The famous Tang Dynasty poet Meng Jiaos several lines, lively and vivid expression of the mothers deep affection and gratitude to their mother.
  Mother love is great, the love of my mother s meticulous mother not only in the everywhere in the life care, often inquire after sb。s life, still learning encouragement, be good at giving systematic guidance mother usually tells me, great and little famous scientists study hard story, teach me to want to be example with them, learn from them, to do a a diligent, civilized, polite good all-round development of children a mother to me like the spring sunshine brings me warmth as in reading daughter, I always warn myself to study hard, with excellent results to repay his mother.
  Today is mothers day, it is Sunday, I changed the previous Sunday the habit of sleep, make ones way noiselessly to ground up, took out two eggs from the refrigerator, and then imitate the grandmother usually boiled method, in the pot with water, lit the gas stove after the water is boiled in boiling water, to beat two eggs, not while the two white oval eggs in a pot in the formation of a I turn off the gas, from the cabinet took out two bowls, each bowl with each containing an egg, a bowl for the grandmother, a bowl to the mother.
  When my mother took me on the egg, excitedly asked me:" how do you think of this to my eggs?" I smiled and said to her mother:" your grandmother and prepare breakfast for me, today is mothers day, I think I made a breakfast as a mothers Day gift for you!" Listen to me, my mother hugged me and said: " you are a good boy!" My mother and I tightly hold together, my heart welled up in a warm heat flux.
  母亲节英语作文7
  Orginate in America in the Mothers Festival. May 9,1906, American consuming city Jia-Wei the mother misfortune of silk dies , her grief extremely. Avoid Japan in annual mother death anniversary, Miss An Na organizes catch up the campaign of Sai mother, encourage other person to also express the gratitude for own loving mother with similar way. Hereafter, she convinces people everywhere and establishes the Mothers Festival to the appeal of all sectors of society and call.
  Her appeal gets warm response. Through draft resolution, on May 10,1913, American Senate and House of Representatives signs by president Wilson second that announces and decides each years May for Sunday, is the Mothers Festival. This measure arouses world countries, is imitated one after another, install to 1948 Na pass away , 43 countries have established the Mothers Festival.
  母亲节英语作文8
  It was Mother's Day. He Zheng thought he should do something for her mother. He decided to help her mother do some housework. After school he went to a shop to buy some food on her way home.
  When he got home,he did her best to cook some nice food,though he couldn't do the cooking well. Thenhe cleaned the room. He felt very tired,but he was very happy.
  When her father and his mother came back and saw the clean rooms and dishes which weren't so nice,they were very happy.They had their supper together.Her mother said,"Thank you,my child!"
  母亲节英语作文9
  Mothers Day Mother's Day is a holiday when children honor their mothers with cards, gifts and flowers. In many countries, such as Denmark, Finland, Italy, Turkey, Australia and the US, people cel lebrate Mother's Day on the second Sunday in May while many other countries of the world celebrate their own Mother's day at different times through out the year.
  One of the best ways to celebrate Mother's Day is to give your mom the day off. Let her relax with the rest of the family doing all the housework. Usually, dad and the kids will let mom sleep late that morning as they go into the kitchen to prepare her favourite breakfast. Never forget to place a vase with a single flower on the table beside the food. The kids can pick up the flower from the garden or buy one from the shop. Arrange everything nicely before mom wakes up. Some families will carry the food and mom's favourite sections from the newspaper to her bedroom so that mom can have breakfast in bed. Presents and cards from the kids can be handed to mom by themselves or just placed on the dining table.
  After breakfast, go anywhere mom likes to go. Shopping or going on a picnic in the garden. Make a special Mother's Day dinner or take mom out for a great meal in a famous restaurant she loves most.
  Anyway ,let mom enjoy the whole day and feel your love, and then the Mother's Day can be a good one. As Mother's Day is around the corner, it's time to take actions!
  母亲节英语作文10
  the family had just moved to rhode island, and the young woman was feeling a little melancholy on that sunday in may. after all, it was mothers day -- and 800 miles separated her from her parents in ohio.
  一家人刚移居罗德岛。5月的那个星期天, 年轻女人感到有点儿忧伤。毕竟, 这一天是母亲节─而她却与俄亥俄州的父母亲遥距800英里。
  she had called her mother that morning to wish her a happy mothers day, and her mother had mentioned how colorful the yard was now that spring had arrived. as they talked, the younger woman could almost smell the tantalizing aroma of purple lilacs hanging on the big bush outside her parentsback door.
  她那天早上给母亲打去电话, 祝母亲节日愉快。随后, 她的母亲向她提起, 因为春天已经来临, 所以院子里的色彩是多么绚丽。在她们通话的当儿, 年轻女人几乎可以闻到悬垂在父母亲后门外大灌木丛上的紫丁香醉人的芬芳。
  later, when she mentioned to her husband how she missed those lilacs, he popped up from his chair. i know where we can find you all you want, he said. get the kids and cmon.
  so off they went, driving the country roads of northern rhode island on the kind of day only mid-may can produce:sparkling sunshine, unclouded azure skies and vibrant newness of the green growing all around. they went past small villages and burgeoning housing developments, past abandoned apple orchards, back to where trees and brush have devoured old homesteads.
【母亲节英语作文范文(精选10篇)】相关文章: